Education
B.A., University of Toronto, History and English
J.D., DePaul University College of Law
---
Bar Admissions
New York State Bar
Illinois State Bar
Ms. Pyun is a Senior Associate at d'Arcambal Ousley & Cuyler Burk LLP.  Ms. Pyun has significant investigative and litigation experience working in the Federal Government.  Prior to joining the firm, she prosecuted white-collar cases as a Trial Attorney in the Department of Justice Antitrust Division, where she successfully investigated and litigated price-fixing and contract bid-rigging conspiracies.  She began her legal career at the Federal Deposit Insurance Corporation (FDIC), where she worked on a variety of regulatory and enforcement actions stemming from the 2008 Financial Crisis.
---
Speeches and Publications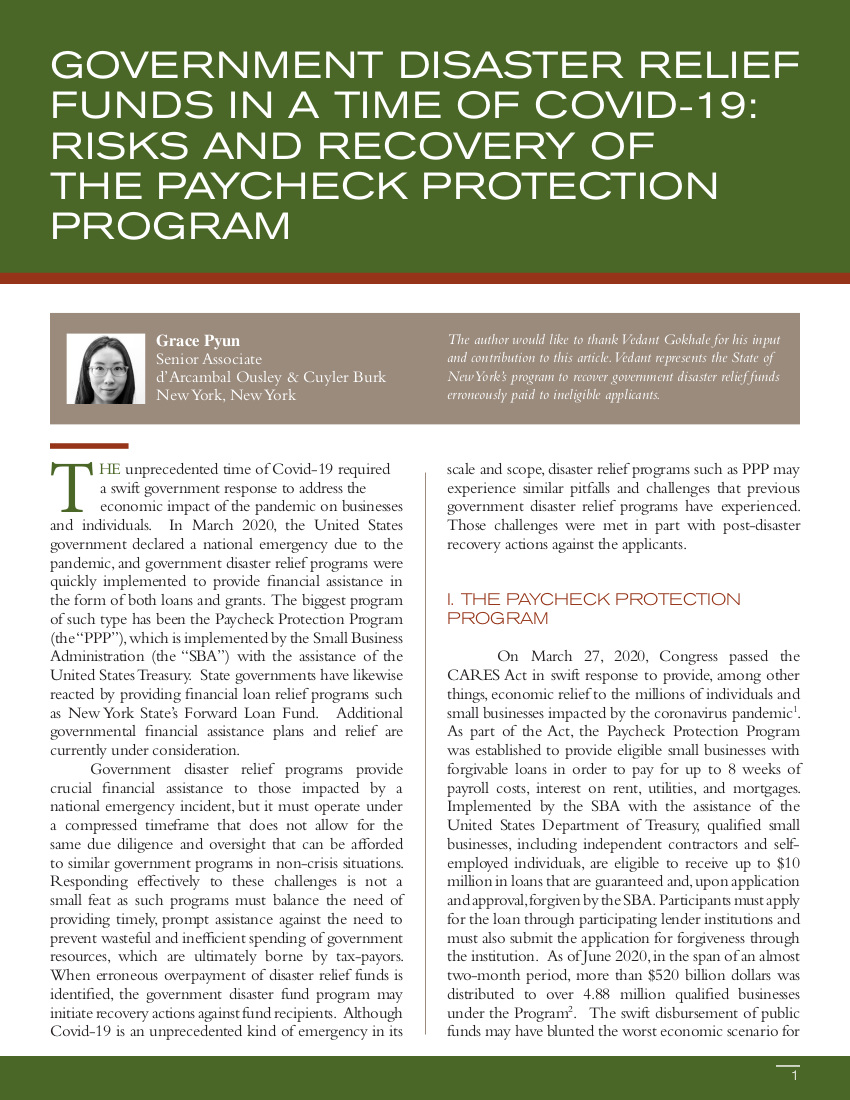 The unprecedented impact of Covid-19 prompted swift implementation of government disaster relief programs to individuals and businesses, the most expansive program being the Paycheck Protection Program ("PPP"), january 2021.
In the face of a national disaster or emergency, time is of the essence but at the same time increases the risk of erroneous disbursement of government disaster relief funds. This article explores these risks and potential avenues of post-disaster recovery actions for government disaster relief funds in the context of the PPP.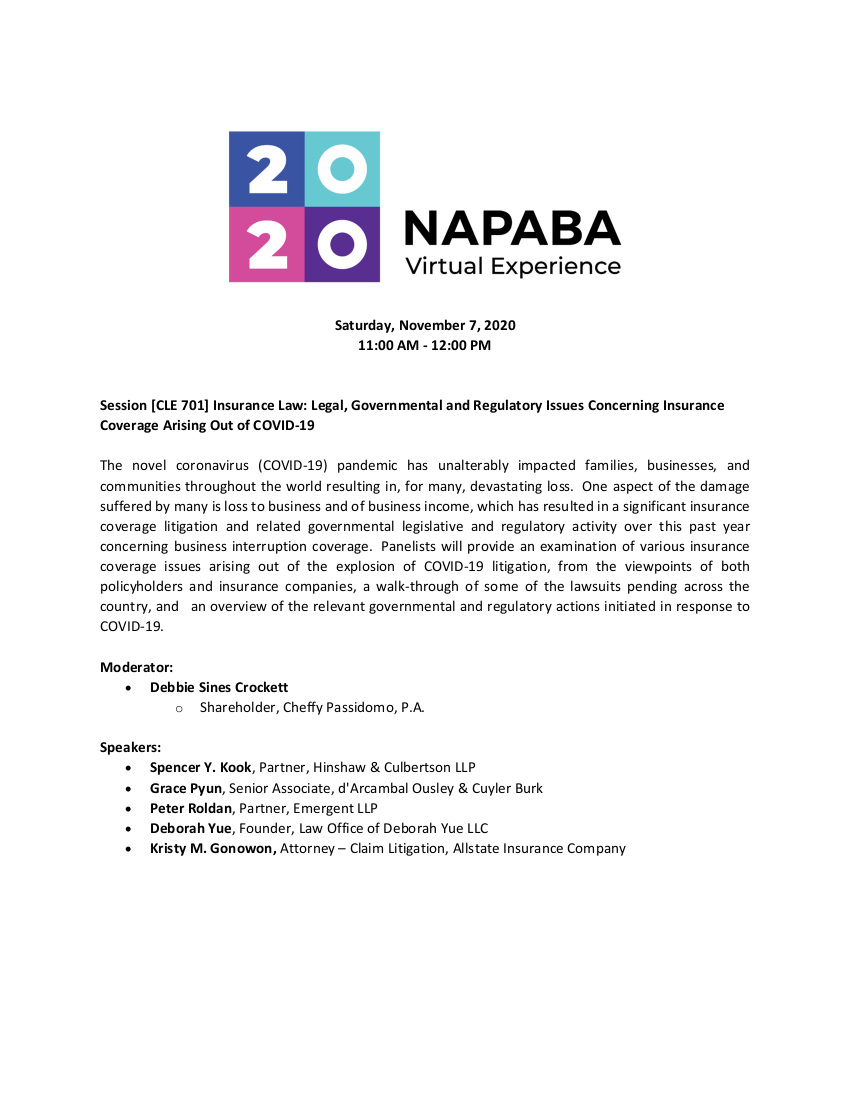 On November 7, 2020, Grace Pyun participated in a CLE panel discussion entitled "Legal, Governmental and Regulatory Issues concerning Insurance Coverage Arising out of COVID-19" at the National Asian Pacific American Bar Association (NAPABA) 2020 virtual annual convention. The panelists examined various coverage issues arising out of COVID-19-related insurance litigation as well as legislative and regulatory activity over the past year concerning business interruption coverage.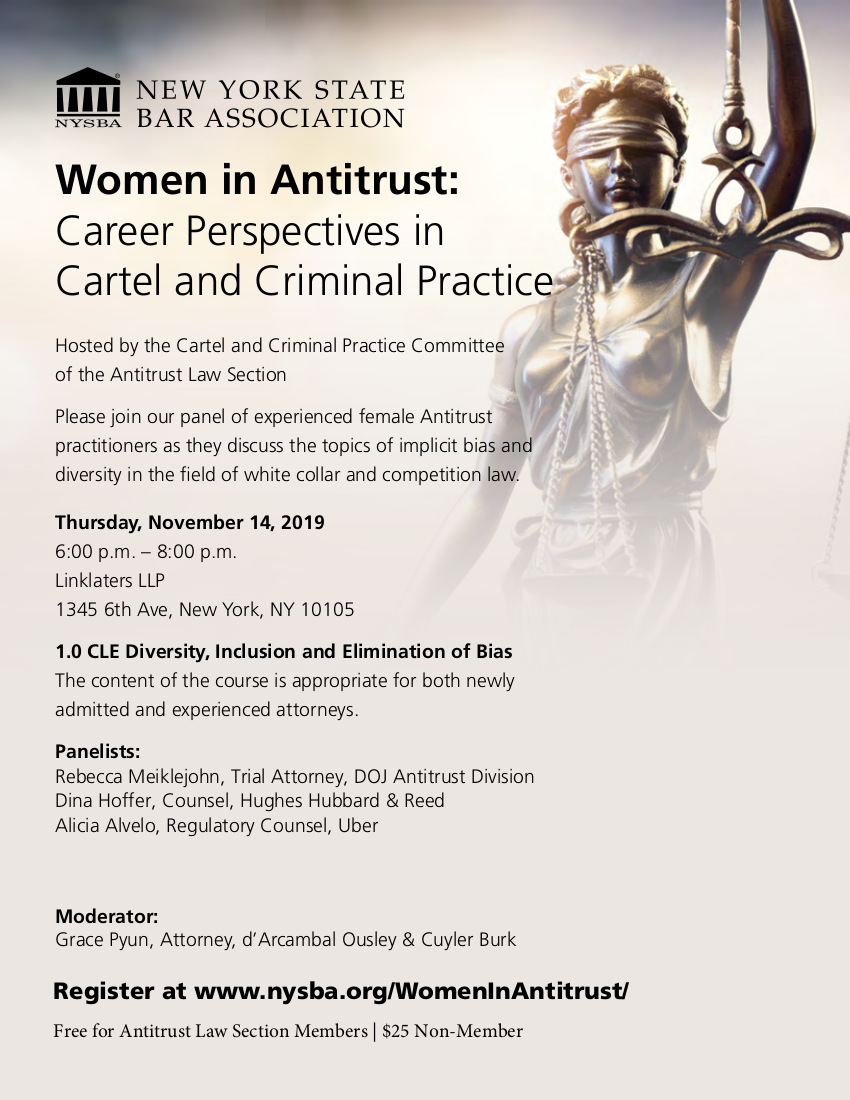 On November 14, 2019, Grace Pyun moderated a panel discussion sponsored by the New York State Bar Association, Antitrust Section entitled "Women in Antitrust: Career Perspectives in Cartel and Criminal Practice" where Rebecca Meiklejohn, Trial Attorney at the United States Department of Justice Antitrust Division, Dina Hoffer, Counsel at Hughs Hubbard & Reed, and Alicia Alvelo, Regulatory Counsel at Uber discussed the role of diversity and implicit bias in their Antitrust practices.  Grace is the Vice-Chair of the NYSBA Antitrust Section's Cartel and Criminal Practice subcommittee.